The countdown is on to ESPC20 Online – only 7 weeks to go!
ESPC20 Online is a new virtual conference offering you affordable, world-class Microsoft 365 learning at your fingertips, from wherever you are in the world. Tune in live Oct 14th & 15th or catch up on-demand across 100+ sessions from SharePoint, Office 365 & Azure experts.
Join me for my ESPC20 Online session: Build Responsive Applications at Scale using Microsoft Graph Change Notifications with Resource Data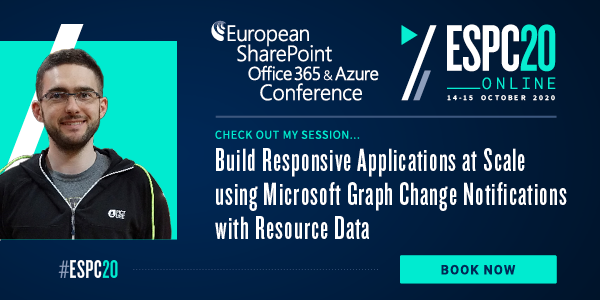 Everyone expects applications to display the latest information without having to "refresh" the screen. However, building responsive applications at scale can be challenging. Change notifications with resource data allow you to subscribe to changes in Microsoft graph and receive notifications that include the changed data! Join this session with Microsoft Graph Program Manager Vincent Biret to learn how you can take advantage of this new feature in your own applications. This session is oriented towards developers and is filled with demonstrations and code samples. ESPC is always top quality and I am truly looking forward to this year's virtual conference. Check out some of ESPC's reasons why you don't want to miss this event.
Reasons to Attend ESPC20 Online
Refresh – With so much change, keep up with the product developments and practices that matter most.
Revitalise – Find new and better ways of working, to bring new energy and effectiveness to your work.
Investment – Invest in your team, yourself and your career by learning new skills or mastering current ones.
Access – With no travel, watch live or on-demand at a time that suits you from the comfort of your workspace.
Experts – Hear from the best of the best - Microsoft Product Team members, RDs, MVPs, MCMs and independent experts.
Depth – With levels catering from Level 100-400 there is something for everyone.
Network – Build your professional network online, with like-minded people from across the globe.
Vendors – Find the best solutions from the best local, European and Global providers.
Independence – Information and advice you can trust, learn what's trendy and what works.
Breadth – Attend a variety of session types across the biggest SharePoint, Office 365 and Azure topics.
Affordability – Enjoy the quality of ESPC with incredibly affordable prices and options.